It all starts with an idea. Races Against Racism have taken place around the country, and last spring, a community member and organizer Henry Harris suggested that 15-year-old Hope Petraro organize an event in her community. He said she might be interested in having this event in Montpelier. That was just the spark she needed.
Since then, Hope, with the support of her teachers and community mentor, has created an important event to fight back against racism during a time when our country is seeing a resurgence of racial conflict.
It was a blazing hot day.
The sun beat down as we headed to the far side of the track behind Montpelier High School. More than a hundred runners were gathering for the start of the Race Against Racism event and to hear speakers address the issue of race in Vermont. Even more community members came to cheer for the runners and to be part of the event.
There were large puppets dancing through the crowd, from the Bread and Puppet Theater. There was a steady drum beat supplied by a local band. My daughters took their position to cheer on the recreation path nearby while I set my watch and gathered with the runners in the bright sun.
I found the event on Facebook. Facebook likely suggested it to me because I am a runner and live in the area. When I saw a picture of the high school organizer, Hope, I knew that I wanted my family and I to attend this event. I also knew I wanted to learn from Hope and her teachers how we can inspire our educational system to help students organize and lead powerful community events.
We had the good fortune of interviewing Hope about how and why she created this event for her community.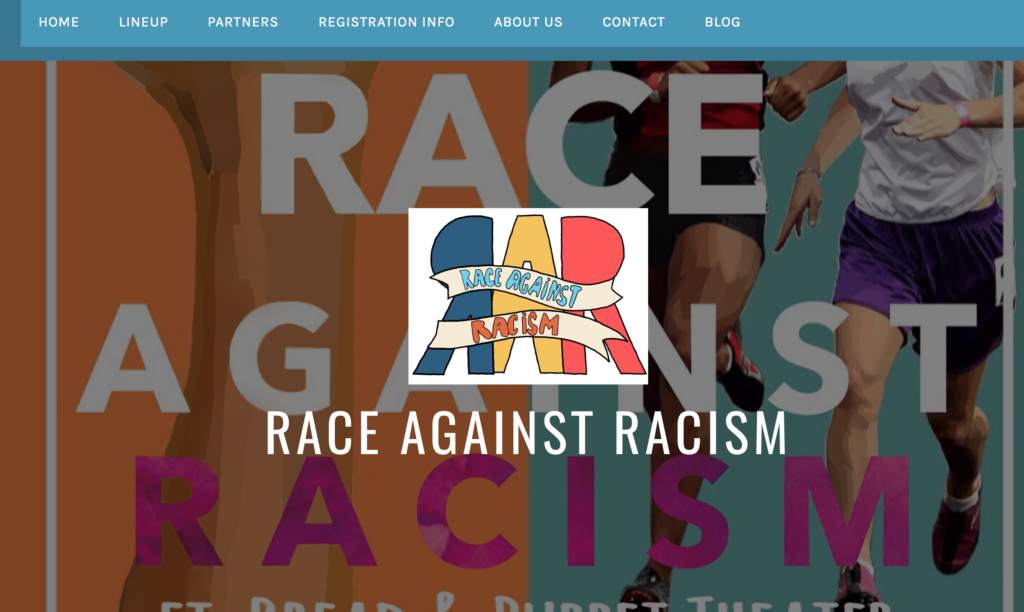 Local and statewide media covered the event, interviewing Hope and her teacher, Heather McLane. McLane worked closely with Hope to organize, fund, and run this large event for the community. The race and rally was mostly planned by Hope and her friends in the summer and in their free time, but the event couldn't have been more timely. Between the events of Charlottesville and local racially based hate incidents, an event against racism was relevant and important for this community.
It begs the question: how can schools give students the opportunity to create meaningful community events?
Hope and her teacher had to take several steps:
Finding sponsors/donors for the event
Locating partners who would be supported by the funds raised
Connecting with groups to enforce the event
Creating a website and Facebook event for the race
Organizing the speakers and musicians presenting after the race
Creating tee shirts for sale at the event
Gathering volunteers to time, officiate, and organize race results
My goodness, are those Transferable Skills?
These activities not only provide relevance and motivation — as in, this event is coming, and we have to plan for it now! — but also a whole host of transferrable skills that students need to live  successful, productive, and engaged lives.
Just think, Hope had to use:
Clear and effective communication to reach out to sponsors, partners, and groups.
She had to have self-direction to stick with this planning during the summer months and while maintaining a busy school schedule.
Hope used technology to create the logo, share about the event, and communicate with partners, showing creative problem solving.
She clearly demonstrated responsible and involved citizenship by contributing to the enhancement of community life, respecting diversity, showing moral courage, and showing a commitment to community wellness by organizing and speaking at the event, and by being open to discuss it with the media.
And as for informed and integrative thinking, Hope had to create a speech that both connected to recent national issues, to local issues of race here in Vermont, and to her own life experience. All at the age of 15!
Hope and her friends give us a model for flexible pathways for learning, grounded in relevant, local community events, with community partners.
This is a model for our state and has me pondering: what would school and our communities look like if students were hosting meaningful, positive and and engaging events like this regularly?
When I was getting ready to interview Hope and her teacher, Heather McLane, for this post, I was organizing my tripod, iPad, and computer at home, in the mudroom. I had my Race Against Racism shirt on.
One of my daughters said, "What are you doing today?" as she got ready for school. I told her I was going to interview Hope, who organized the Race Against Racism. She did a little jump-step in place and her face lit up. "Oh really! That is amazing! Please tell her that I exist!"
So to a 10-year-old (and her mom), Hope is a role model and community hero. What did it mean to my daughter, and the many young people at this event, to see a teenager as a leader and advocate for equality? This is how we improve education and the world: one event at a time.
How can schools better support these pathways and experiences?
Please share your ideas, questions and thoughts in the comments.