Use service learning to grow your community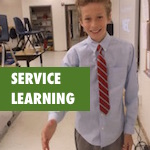 What do you do when you're a 5th-through-8th middle school housed in two separate buildings?
If your 7th-and-8th graders are with the high school, and 5th and 6th graders are off on their own, how can you provide an opportunity all middle graders to feel involved in the middle school? How do you promote leadership and engagement, and connect students to their communities?
For the Cabot School, service learning is the answer.