Personalization for school-based service learning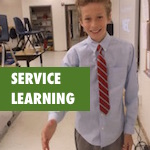 Looking for a way to harness students' energy while giving them meaningful work that appeals to their personal interests? One model for service learning I've used is iLead: a "job-based" program that channels student interest into meaningful positions around the school.
School community improves, students learn responsibility in a way that engages with their interests, everybody wins.
Here's how it works.