These 4th graders say yes.
With a little help from the UN's Global Goals.
Students at Ottauquechee Elementary School took Minecraft, the popular video game platform, and turned it to something serious: saving the world. They paired Minecraft with the UN's 17 Global Goals for Sustainable Development, and started creating towns that are innovative, sustainable, and focused on helping communities thrive.
They started by pondering two great big questions:
What is a community?
What do we value in a community?
As students contemplated these driving questions, they also considered what towns need. They thought about how their ideal community would function. And what it would include. For Ottauquechee students, a Sustainable City or Community includes:
a hospital
a school
green spaces
clean water
renewable energy sources
solar panels
an animal hospital
a grocery store with fresh fish
a farm
a beach
Which community asset ties in with which Global Goal?
Students knew they needed more information, so they decided to pull in a community partner with expertise in this area. Who better than someone who does this for their job?
Meet your town planner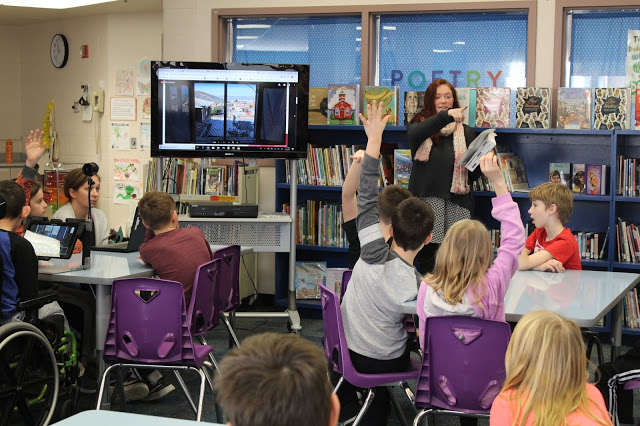 Paige Greenfield is the town planner for Two Rivers-Ottauquechee Regional Commission in Woodstock, Vermont. She visited fourth and fifth grade students to explain first what town planners do. They talked about accessibility for food sources, and how to manage waste and recycling. And at that point, had concrete, real-world information on what makes a town work.
For the younger students, librarian Becky Whitney shared this YouTube video describing the role town planners play in community development.
If you build it, it will work
The students started designing their towns by looking at maps and seeing where towns and building are laid out and what they wanted their towns to look like. Then they applied what they know about Minecraft, the Global Goals, and their 2D designs. Per Ottauquechee librarian Becky Whitney,
"Students used large grid paper to make a 1:1 model of the building they were responsible for making in their community. Then we laid out their plans as they would appear in the Minecraft world, making sure to make intelligent choices as to where everything is located based on our conversation with Ms. Greenfield."
Staying focused on the big picture
Students had conversations about their values aligning with their design. In Minecraft, your plants keep growing even when you're not logged in. And so do the animals. And as we learn about resource access, we have to talk about what to do with the excess animals. We have to talk about having an Animal Control Officer in-world. But students and teachers came to the : if we believe in life on land, and life under water if we are creating things for the sake of killing things that is not in line with our values. Big discussions for these elementary school students!
Culminating event
When I showed up in the Ottauquechee library, the place was pulsing with energy. Up on the big screen were the Minecraft worlds that the groups created.
On one side of the floor was their younger buddies: students in grades 1/2 who were there to learn about these projects. Students in K, 1, and 2 paired up with students in 3, 4, and 5 and each group had a chance to present to their buddy grade.. The students took the stage and described the features and buildings they created, along with what Global Goal they were focused on, to the younger students (and vice versa!). Parents, community members, and district administrators looked on, and had the opportunity to assess students on their communication skills. The students were proud of this work, and they excitedly pointed out what they made and why. It was truly using this technology for good — to promote creativity, purpose, and communication skills, not just more screen time.
In another opportunity to share about this work, students at Ottauquechee had to write a compelling persuasive essay to join the Dynamic Landscapes conference, a statewide education conference, to present about STEAM. A team of eight students came and presented their Minecraft projects to a full house.
Authentic audiences? Double-check!
Tips for teachers
Since Minecraft was designed to be a video game, it takes a bit of finagling to make it useful for this kind of learning and project. Here are some of librarian Becky Whitney's tips for using Minecraft for education:
Line up  your experts. Here is a real chance to make a connection to careers and local communities. By connecting to the Town Planner, or other community groups, you create relevance and ground the experience in the community, instead of existing solely in the virtual world.
 Create a high-trust environment for students. Establish student-led rules for the Minecraft world. Once students learn that they are using Minecraft for education, and expectations are created for what students can and can't do as digital citizens, place a high-trust in students. This builds their ability and confidence about engaging in technology for learning.
Present to each other. This is a great opportunity for students to role model using technology collaboratively and positively for other students. Students can present to younger students to foster digital citizenship, empathy, and transferable skills.
Open up assessment. This is an opportunity to invite school staff and community members to help assess students on their communication skills, and to connect with the community about shared goals, such as a healthy, thriving town.
Minecraft hacks (via librarian Becky Whitney!).
Understand how to use "cheats" to have more than 5 people join one world
Mark which iPad is the "master"
Make roads before the students log on so they have somewhere to orient themselves. It's possible to make street signs or use different color rock to help them locate where they belong on the "street"
Make note of defining characteristics to help students remember where they are working
Find out more at the  OQS blog!
How could you use Minecraft to change the world?